Billyard Insurance Group Named a Top Canadian Insurance Brokerage in 2021
Thursday, 11 February 2021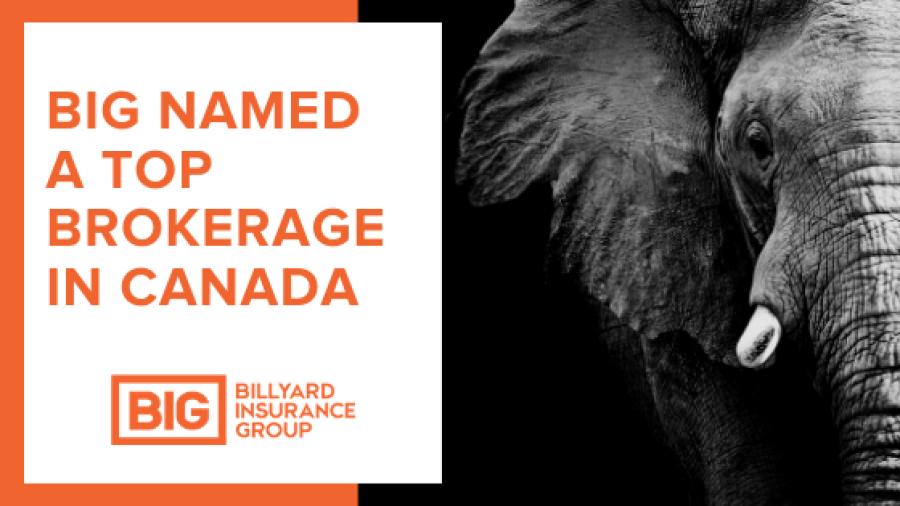 We are excited to share yet another achievement that causes Billyard Insurance Group to standout as an industry leader in the world of insurance. Insurance Business Canada has recognized BIG as No. 2 on the list of Top 10 Insurance Brokerages in Canada in 2020. This award highlights outstanding brokerages across Canada based on criteria such as revenue growth, new brokers, client growth and policy growth.
Billyard Insurance Group Continued to Thrive in 2020
In a year that brought so much isolation and challenge for us all, we are proud to say that we were able to find a new resilience that propelled our entire organization forward. We were able to adapt our strategies and deploy technology that truly brought our teams together and made them more effective as the landscape of the industry had to pivot.
We heavily invested on building online tools to meet technological demands and support our brokers' success company wide, including a robust website quoting engine, and a company-wide training platform. Our training platform, 'BIG University', equips and empowers brokers with hundreds of hours of learning opportunities that provide the tools needed to meet company and industry standards and find their competitive edge in industry trends. These advancements as enabled us to scale our business in ways that were not possible in previous years.
Stephen Billyard, CEO Remarks
"We are incredibly proud of the growth we have accomplished in 2020," remarks BIG's CEO, Stephen Billyard. "We continue to prove that BIG will consistently deliver profitable and sustainable growth as we establish ourselves as leaders in the insurance industry. Our plans for the years ahead are ambitious as we double our commitment to being a people-focused company, while empowering brokers with the tools, technology, training, and resources they need to be successful."
About BIG
Billyard Insurance Group started out as a local brokerage in Welland, Ontario in 1998. In more recent years, we expanded across Ontario with over 43 branches and an operation of over 500 employees! What is particularly notable about our rapid growth is that it's all been achieved organically, without the use of mergers and acquisitions. In 2020, we also ranked as one of Canada's Top Growing Companies on the Globe and Mail's Report on Business.
Having access to over 40 insurance providers enables us to provide each and every client with a holistic approach to insurance. As our motto goes – Insurance for Everything – we are proud to offer solutions for home insurance & auto insurance, commercial insurance, travel insurance, pet insurance, life insurance as well as financial planning services. Experience the BIG difference with us!