Boat Safety Equipment You Should Have On Board
Monday, 24 June 2019
We understand that being on your boat in the summer is one of life's simple pleasures. If you're lucky enough to be spending some time on the water this year, make sure you have all the safety equipment you need. Making sure that you have the right boat safety equipment is important to keep you and your family safe on the water.
If your motorized boat is up to six meters long, you should ensure that your boat is equipped with the following boat safety equipment before you set sail.
1. The Number One Piece of Boat Safety Equipment – Wear a Life Jacket!
The number one must have piece of boat safety equipment! Not only should you have a life jacket on board but should also be wearing them. Even if you can swim, if you are unconscious following an accident, your life jacket will keep your face up in the water. It's a scary fact that hundreds of Canadians drown while boating, almost 90% of these were not wearing a life jacket. Life jackets have really come a long way and you can find some that are much smaller which is perfect for the warmer summers.
2. Keep a Flashlight and Flares on Board
Flashlights and flares can be incredibly important in an emergency. Canadian approved flares can be used to send distress signals in case of emergency. If your boat loses power in the dark, a waterproof flashlight can help keep you safe and be used to help show your location.
3. A Paddle or an Oar
If your motor breaks down, you don't want to be floating around the water like a duck! Having a paddle or an oar on board can help move you to shore or keep you safe in the event of engine failure.
4. A Buoyant Heaving Line
A buoyant heaving line is a floating rope with a floating object on one end. This can be used to be thrown towards a person in the water to help pull them on board. If someone ends up overboard, this can truly be a lifesaver. Even the strongest of swimmers can panic and struggle to swim to safety.
Each year make sure you check that your line is in good condition and the flotation device is still buoyant. It may be wise to practice your throwing technique also, you don't want to wait until you really need to use it to practice!
5. Bailer or a Hand Pump
If you have a leak on board your boat, you'll need some way to remove the water to make sure you can get safely back to shore. Having a bailer or hand pump on board will enable you to empty out any excess water.
6. Whistle or Other Signaling Device
If you are in an accident, you may need to signal to others where you are. One way to do this is a sound signaling device such as a whistle or compressed air horn. Having a whistle on your life jackets is also a great idea as it will help anyone if they've fallen overboard.
7. Lights for Navigation
You wouldn't drive your vehicle in the dark without headlights, so you should treat your boat the same way. You should ensure that you have navigation lights on board to help visibility in poor conditions or at night. This is not only to help you find your way but also assist other boats or people in seeing you.
8. Carry a Fire Extinguisher On board
If you have an inboard engine, fridge, heater, fuel tank or fuel-burning stove on your boat then you are required to carry a fire extinguisher. A Class 5BC fire extinguisher is required which is a single use, light weight fire extinguisher. We recommend that you also learn how to properly operate the extinguisher for maximum effectiveness in the event of a fire.
9. Don't Forget Your License
Lastly, your boat safety equipment list must include a vessel license for your boat on board. The license is free of charge and acts as an identification for the vessel allowing rescue teams access to important information in an emergency. In addition, anyone operating a powered recreational watercraft in Canada must have a boating license. This is a mandatory license but once acquired, it carries no annual fees and lasts for life!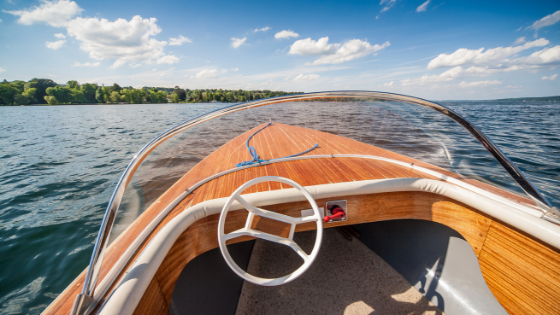 We recommend that anyone operating a boat is familiar with safely operating the boat and any boat safety equipment on board. We hope you enjoy your time on the boat this summer, keep safe on the water!
Billyard Insurance Group provides boat insurance to make sure that you are covered on the water. For a quote, contact us today!
---