How Do Insurance Companies Determine your Home Insurance Rates?
Monday, 10 December 2018
Your home is likely your single largest investment and asset. When looking for insurance coverage you want to be sure that you have a package that offers the best protection. Price is often a significant factor that determines which insurance package you choose and too often people look for the cheapest home insurance coverage for their home insurance. At Billyard Insurance Group, our brokers understand that price is an important part of your decision-making process, and will shop around with the most trusted insurance companies in Ontario to find the cheapest home insurance coverage for the protection you need. In this blog we look at the different factors that determine the cost of your home insurance premium.
Here are the top 13 factors that will impact the price of your Home Insurance:
Replacement cost
Neighborhood
Usage
Electrical System
Plumbing
Roofing
Heating System
Renovations & Home Improvements
Claims History
Deductible
Proximity to Fire Hydrant
Pets
Special Discounts
Replacement Cost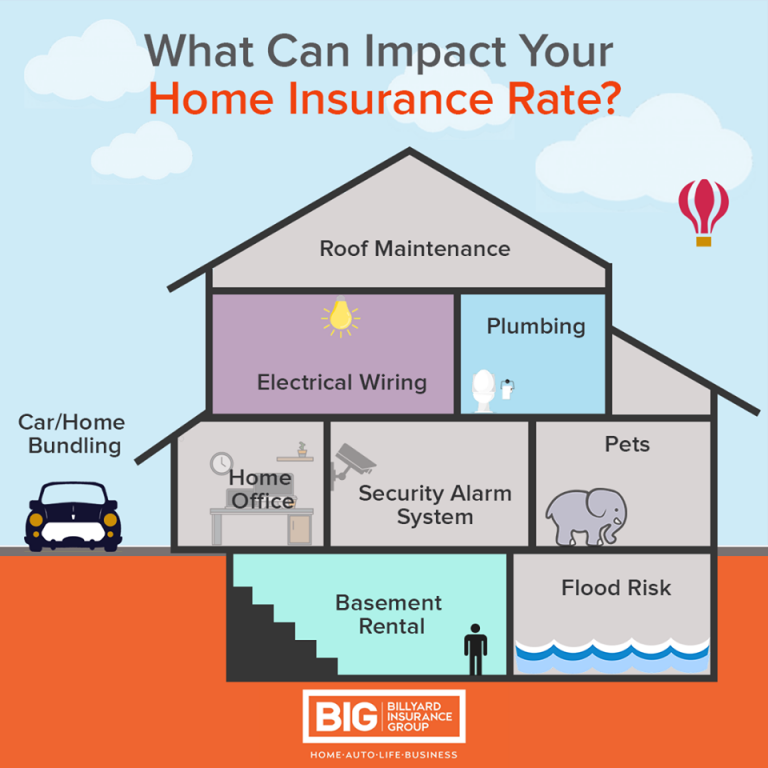 The replacement cost of your home can sometimes be misunderstood. It's not how much you paid for your home, how much it is currently worth at market value or the amount your mortgage is for. The replacement cost is purely based on how much it would cost to rebuild your home. In the event of a total loss of your home, the insurance company will pay to rebuild your home up to this limit on your policy.
Based on that, there are several factors that affect the cost of rebuilding your home. For example, the size of the home would impact the rebuild cost. If you live in a large three-story house it is likely that your replacement cost would be more than a small townhouse.
Some insurance companies offer a policy with a guaranteed replacement clause, which guarantees that the insurance company will rebuild your home even if the cost to rebuild exceeds the replacement cost stated in your policy.
1. Neighbourhood
Each neighborhood has its own set of risk factors that will determine the rates for those homes. Insurers have access to statistics on the claims across their jurisdictions. They record fire, storm and thefts in each area that then affect the rates.
Homes that are located near water will be at higher risk for flooding. Be sure to get enough flood insurance to cover any damages if you know that your home is in a high-risk area. However, this will likely increase your rate.
Homes that are located near to an airport are at risk of falling debris or structural damage due to the vibrations of the engines.
Crime rate in your neighborhood is also going to affect your insurance rates. Homes located in neighborhoods with a higher crime rate or several abandoned properties that draw crime, will be classed as higher insurance risks. Home security systems or motion detector sensors will not only help give you peace of mind but may be eligible for discounts with some insurers.
2. Usage
Be sure to advise your insurance broker if you run a home-based business. While this may increase the cost of your home insurance, it is important to disclose this to ensure you have liability coverage for a loss that may occur due to the operation of your home based business. Depending on the size and nature of your business, you may be able to add an endorsement to your home insurance policy to cover your business – or if your business needs are more complex you may need to purchase a separate Commercial Insurance policy. Either way BIG Insurance can cover you.
3. Type of Electrical System
Before you buy a home, it is advisable to have a certified electrician inspect your wiring to ensure it's safe. Having an older wiring system can be dangerous and may increase your insurance costs. If your home was not built in the last 30 years, you may need your wiring replaced to copper before you can get insurance. If your home has knob and tube wiring, then this means your wiring could be over 100 years old. Knob-and-tube or aluminum wiring have a higher risk of overloading and catching fire. Another way to increase the safety of your home is to install a breaker system which is more reliable than fuses alone.
4. Type of Plumbing
Newer homes use plastic and copper pipes which are more durable, hygienic and resilient to changing weather conditions. On the other hand, older pipes such as lead or galvanized steel pipes can leach dangerous toxins in your water and do not do well in cold winters. New plumbing will lower your insurance rates, improve the water quality and will help increase the overall value of your home too!
5. Condition of Your Roof
If you live in Ontario, the winter weather will certainly put your roof to the test. If your roof is over 15 years old, it is likely that your roof will need to be repaired which can put your home at risk for damage from water and wind. Insurance companies will typically only pay for the depreciated value of a roof as opposed to the full replacement value. Ask your broker to check to see what your policy covers.
Just like your electrical wiring and plumbing, the materials used to build your roof can also affect your insurance costs. Metal and clay tile has a longer life than asphalt shingles and tend to require less maintenance.
6. Heating system
You may pay more for insurance if your home has oil and wood-burning heat sources as these are an increased fire risk. Not only this but wood stoves are an increased risk for carbon monoxide poisoning if they are not properly installed and maintained. Forced-air, gas or electric heating tend s to be lower cost. To save on your home insurance, you can update your home's heating system to one of those options or newer environmentally friendly technology.
7. Renovations and Home Improvements
You should always inform your insurance broker or insurance company if you make any changes to your home. Even though your premium is paid annually, this can change throughout the term if there are changes to your home. Some improvements will increase the replacement cost of your property (i.e. kitchen renovations, finishing the basement) and will likely increase your premiums to cover that cost. However, some changes may reduce your risk of property damage (i.e. replacing old pipes or wiring). It is advisable to speak to your insurance broker to get an understanding of how your rates will change.
8. Past Home Insurance Claims
Your claims history can impact your insurance rates. If you have multiple claims, the insurance company could mark you as high risk which will not only increase your rates but also can lead to your insurance company dropping you. If this is something that is a concern to you, speak to your insurance broker who can advise as to how your claims history may impact your rates.
9. Deductible
One way to lower your insurance rates is to increase your deductible. Your deductible is the amount that you agree to pay on your claim. However, you should ensure that you are able to cover the deductible cost. Having a higher deductible also reduces the number of small claims that you tend to make which means that you'll have a lower claims history. Be sure to weigh up the benefits and disadvantages of having a higher deductible. It may benefit you in the short term by having that lower monthly payment but if you do have to make a claim, it will require more money from you up front.
10. Proximity to Fire Stations and Hydrants
Fire can cause devastating damage to a home. Having your home in close vicinity to a fire station or hydrant means the fire department can extinguish a fire faster. So therefore, there is likely to be less damage caused by the fire and so your insurance will go down. If there are no hydrants within 300 meters of your home or a fire station within 8km of your home, building a nearby pond can act as an emergency water source, and even in some instances add to the value of your property.
Similarly, you can help reduce your home premium for some insurance companies by installing a fire alarm system, smoke detector, and carbon monoxide detectors in your home. This is also recommended to keep your home safe.
11. Pets
Did you know that having a pet may impact your home insurance rates. This is because almost 50% of all dog bites occur on the owner's property. Dog breeds that are deemed aggressive may require additional coverage. Homeowners may be required to sign liability waivers for dog bites or require behavior classes to be taken.
Exotic pets such as spiders or snakes can also have effect on your insurance policy. It's important to know that homeowners caught with illegal pets are at risk of having their policy canceled.
12. Special Discounts
Another way to reduce your home insurance premiums is to see which special discounts you apply for. Installing home security systems that detect break-ins and fire usually provide some discounts. Ask your broker to see if there are discounts that apply to you. Some examples include university graduate programs, professional designations, over 50 and if you have no claims. Most companies will also provide discounts if you bundle home and auto insurance with them.
Finding Home Insurance that is both competitively priced with the coverage you need is a BIG Insurance specialty. Let our team of insurance brokers shop your home insurance for you. Get a quote today!
---