How to Prepare for a Storm
Wednesday, 22 January 2020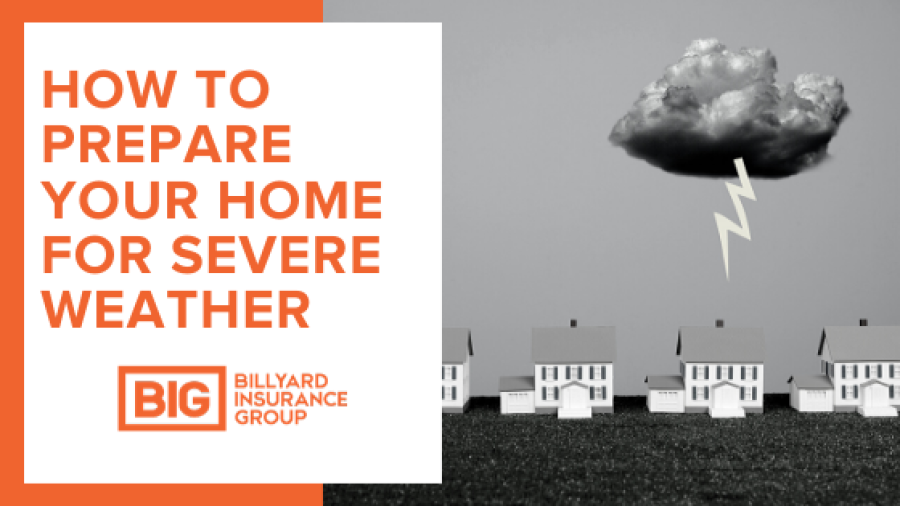 Weather tends to be very unpredictable at times. Different storms can bring different things, whether it's rain, lightening, snow, or very strong winds. Storms with strong winds have potential to cause a lot of damage to your home if you are not prepared. Luckily, most of the time there are warnings for damaging storms so you can take a bit of time to protect your home. When a storm hits, it would be better to stay indoors and stay calm than to worry about the integrity of your home, so keep reading for some tips on how to prepare for a storm and ensure the safety of your home and family.
Windows
While most of the time winds aren't necessarily strong enough to break the glass of your windows, they can send loose branches, outdoor furniture or other items through your windows. If a window is broken, it can let rain or snow into your home and potentially damage the interior, something you may not have been prepared for.
Covering windows with plywood:
To protect the windows, it is a good idea to cover them with something durable, most of the time people use plywood because it is an inexpensive option. Plywood is available at most home improvement stores but takes some preparation well in advance of storms. Put plywood over the windows before the storm starts using heavy duty anchors to hold them in place on wooden frames. If you need to, speak to a professional for the best way to install these covers for optimal protection from flying debris.
Storm shutters:
Another option of how to prepare for a storm is to get storm shutters to protect your windows that are more expensive than plywood. This choice more attractive and permanent. If you live in an area that is prone to high winds and frequent storms, these would be a great investment because they are easy to close over windows if you have little time before a storm. They are usually made from aluminum and can easily pull down or fold out in an accordion style that help save time when a storm is coming.
Trim Trees and Other Growth
One of the reasons you want to protect your windows is from flying debris, such as tree branches, that can break them. Not only that, but they can end up in your eavestroughs and cause them to be clogged, resulting in water damage to your home. To prevent loose branches from flying around, take time to maintain the growth of vegetation around your home. Experts say to trim a minimum of eight feet around the perimeter of your home and eavestroughs.
Inspect your Roof
It goes without saying how important your roof is to your house, so inspecting it is just as important when you prepare for a storm. Go up on a dry day and inspect the shingles and fascia, while nailing in or replacing any shingles that need it. Gabled roofs (roofs that resemble an A with the outside wall going to the top of the roof) are more likely to be damaged. If you think your roof needs it, install more truss bracing to make the truss system stronger. Get in touch with a professional to look for you to ensure everything is strong enough to withstand the strongest winds.
Put Away Outdoor Items
Another tip on how to prepare for a storm is to have any outdoor items such as patio furniture, outdoor toys, garbage cans, potted plants or lawn ornaments tied down or put away in a safe place away from the wind. These things can be picked up and thrown around by strong winds and damage the outside of your house or other parts of your property.
Inspect Garage Doors
Give your garage door a push in each corner and center to see how secure and sturdy it is. Double garage doors can be more susceptible to damage in strong winds and can be forced off its track if it is not heavy enough. Luckily, most garage doors can be reinforced to limit the amount of damage, if any. Again, it is best to have a professional look at it if you are worried of it succumbing to a bad storm and want to prevent damage to your home.
Create a Safety Plan
Creating a safety plan will help ensure you and your family remain safe in extreme weather. This plan should include an evacuation route that everyone is aware of in advance and a home safety kit. In your safety kit you should include water, food, flashlights, first aid kit, phone chargers, any medications you might need and a battery-powered radio with extra batteries. Make sure it is easily accessible in case you must make a quick escape. It is also a good idea to have a generator handy in case you are inside, and the power goes out, you may not know how long it will be out for. In any severe weather, your priority should be to stay safe.
To further ensure your home is protected, you should make sure you check with your insurance company about your coverage. It is a good idea to keep this coverage and your policy updated regularly, because you never know when a bad storm can hit. If you would like to discuss how to prepare for a storm, or how you can protect your home, we can help. We want to make sure that you, your family and your belongings are safe when faced with a bad storm.