Commercial Auto Insurance For Delivery
Thursday, 14 May 2020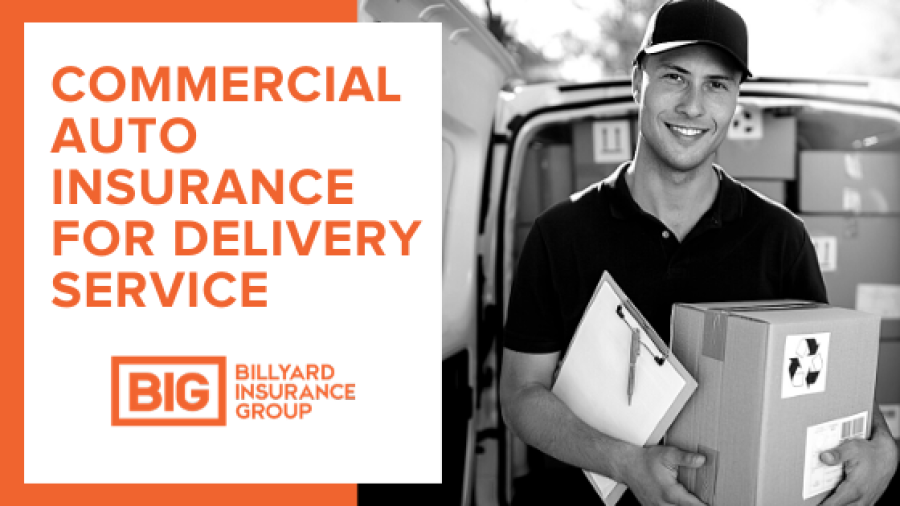 Delivery services have seen an increase over the past few years and remain an essential service throughout this pandemic. More than ever before, businesses are opting to provide delivery and curb-side pick-up options for their customers to follow safety protocols while still offering their products. As your business continues to adapt to comply with government requirements, your business insurance may need some adjustments – for your property, liability auto risks. If you are using a commercial vehicle for your business, or a personal vehicle for deliveries, it is crucial that you and/or employed drivers have commercial auto insurance for delivery. Be sure to speak to a broker to find out what insurance coverages are required to cover your business properly for delivery services.
If you're ready to get a quote, you can complete your quote and buy online today!
Does My Personal Auto Insurance Cover Delivery?
If you are using your personal vehicle for the delivery of goods, or you have a company vehicle to make deliveries, the simple answer is that your personal auto insurance will not cover you. A personal auto policy will only cover you in personal situations where no other businesses, people or goods are involved. As soon as your car becomes a method of delivery for products or you're receiving compensation to drive, your vehicle is being used commercially. Driving commercially introduces a different set of risks for which a personal auto policy would not cover, which is why you will need to ask your broker about commercial auto insurance that includes delivery services.
Commercial Auto Insurance For Delivery
Insurance should be a priority when you are considering using your vehicle for delivery services. As a business owner, if you have purchased a company vehicle for deliveries, you will need commercial auto insurance for delivery to cover the vehicle and any employees that have access to it. For example, a florist or baker making deliveries to their customers would require commercial auto insurance for delivery service for their vehicle and drivers. Each policy can be catered to specific individual or business needs, but commercial auto insurance for delivery will often include coverages such as:
Coverage for costs if you, your employed drivers or passengers are injured. This may include medical expenses and lost wages during rehabilitation.
Coverage offering a replacement vehicle to allow you to continue working if your commercial vehicle has been in an accident and is being repaired. A similar coverage is also available for personal policies.
How Do I Know if I Need Delivery Insurance?
There are a few questions to cover with your insurance broker to determine whether you require commercial auto insurance for delivery, or if you can receive an endorsement on your personal auto policy.
Who owns and operates the vehicle?

If you are the sole proprietor operating your business out of your home and do not travel between locations or make customer deliveries, your personal auto insurance may be enough coverage.
If you are now making deliveries using a personal vehicle for your small business or home-based business, you may require commercial auto insurance for delivery.
A business-owned vehicle used for deliveries or transporting tools and equipment should have commercial auto insurance coverage.
Full-time employees using the vehicle for business purposes should be listed as drivers on your commercial auto insurance policy.


How is the vehicle used on a daily basis?
If you end up in an accident and are using your vehicle for purposes other than what has been disclosed to the insurance provider, your claim may be denied. You should speak with your broker regarding commercial auto insurance for delivery if you use your vehicle for any of following:
You transport or deliver goods, materials or merchandise
You transport equipment or tools
You deliver mail or parcel packages
What type of vehicle are you using?
Similar to a personal auto insurance policy, your vehicle type will directly affect the coverages you need and the cost based on the risk it presents. Larger, heavier commercial vehicles tend to cause greater damage in accidents, so make sure you take this into consideration when selecting your coverage. When you consider adding a driver, you should check their driving history before adding them to your policy, and ask your broker if there are any driver requirements from your insurance provider. For example: If your vehicle has a gross vehicle weight over 4,500kg, standard insurance providers require the driver to have at least 3 years of similar insurance driving history proven by letter of experience.
For More Information About Insurance For Delivery
With the business changes you've been making to adapt to the current situation, you should contact your broker to discuss what changes may need to be made to your commercial insurance policies. At BIG, you can speak to any of our brokers and they will advise if you need to amend your insurance policies to include delivery services and find the best coverage available at a great price. You can contact us here for a quote.
If you're ready to get a quote, you can complete your quote and buy online today!