FAQ: What Kind of Insurance Do You Need for an RV?
Thursday, 15 July 2021
Canada is home to breathtakingly beautiful travel destinations for your next adventure. One of the best ways to get out and experience the great outdoors is with your RV or trailer. The types and models of RVs, motorhomes, and trailers are as numerous as the destinations that await. After finding the perfect one for your lifestyle, you also need to find the perfect RV insurance. This blog will discuss the many options available to insure your home on wheels.
What Is RV Insurance?
From motorhomes and fifth wheels to campervans and popup trailers, your RV is a significant financial investment that you need to protect. Because there are so many types of RVs and a variety of ways to use them, RV insurance is not really a one-size-fits-all deal. The advantage of choosing BIG for your RV insurance is that we will tailor the coverage uniquely to you! Our brokers take the time to understand your situation so that you enjoy your RV to the fullest. Let's discuss some factors that will impact the coverage you need.
Are You Driving or Towing it?
The kind of RV insurance you need will depend on whether you it can be driven independently, or if you tow it. Your regular auto insurance transfers to your trailer while you tow it, but if you're driving a motorhome or campervan, you'll need a separate policy. Why? You need insurance coverage for the vehicle in case you are in an accident. Like car insurance, RV insurance is comprised of both mandatory coverages and optional ones. Mandatory coverage would include:
Liability Coverage: this provides protection for you if you are in an accident where you are held liable for injury or death of other persons. This will also take care of any damage to third-party vehicles and property.
Accident Benefits: helps you if you are injured in an accident. It may cover expenses such as medical bills, rehabilitation, funeral costs, loss of income due to disability.
Direct Compensation Property Damage (ON, NB & NS only): this coverage will help you with repairing damage to your RV when another insured driver is responsible for the accident.
You can add these types of optional to your RV insurance policy to further protect the vehicle and its contents: collision and comprehensive coverage, contents coverage, and alternative transportation, and the list goes on. Our brokers would be happy to explain these in greater detail for your RV.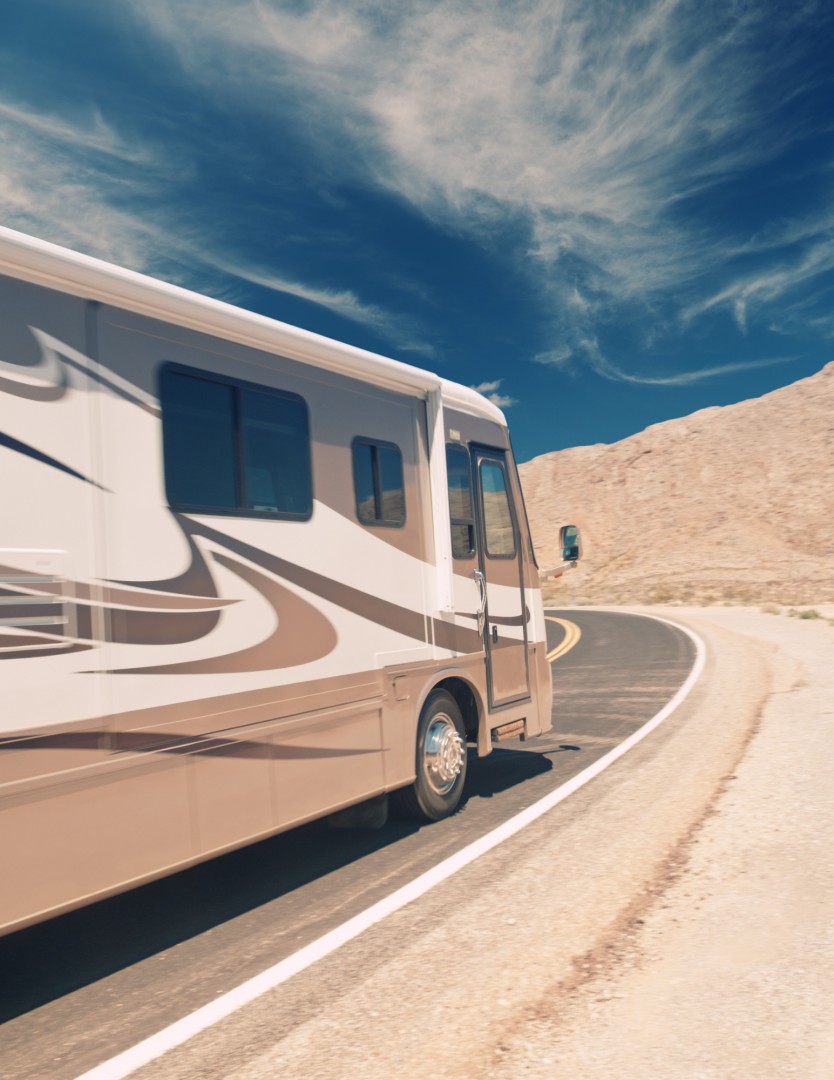 What Type/Class of RV Do You Have?
If you have a parked trailer, or a towing trailer, as mentioned above, an auto insurance policy is not required. Typically your home insurance policy would cover the contents inside your trailer should they be lost, stolen or damaged in a covered peril, but you should always confirm with your property insurance provider and not assume it applies to a trailer.
RVs have different classes of vehicles that greatly vary in cost – Class A, Class B and Class C. The class of RV you own will heavily impact your insurance needs and rates.
How Often Are You Using It?
The coverage you need for a trailer or motorhome that is used for a few weeks of the summer will be different than that of someone who lives in their RV year-round.
Full time RV users who have purchased a new RV will want to ask about Total Loss Replacement Coverage. In a covered claim, this coverage would provide you with a replacement RV of like kind and quality so that depreciation does not impact the value.
For those who use their motorhome or trailer as their permanent residence (used for 6+ months per year), full-time RV insurance coverage is needed – think of it to be more like home insurance. Full-time RV insurance will ensure you have personal liability coverage if someone is injured on your property.
Other RV Insurance Coverage Options
For motorhomes, here are some other available coverages that you should consider:
Emergency Roadside Service: assists you with towing, flat tires, battery boosts, fuel delivery, lockout services and extrication.
Emergency Vacation Expense: if your motorhome is inoperable due to covered loss, this helps cover costs to either get you home or continue your vacation.
Campsite Liability: protects you from paying for property damage caused to a campsite.
Personal Effects in a Motorhome: this will help to repair or replace your personal belongings kept in your motorhome if they are damaged or lost in a covered claim.
For travel trailers or stationary trailers, consider adding these options to your policy:
Emergency Roadside Service: assists you with towing, flat tires, battery boosts, fuel delivery, lockout services and extrication.
Water Protection: covers loss or damage due to sewer backup or overland water.
Frozen Food Protection: power outages can cause food spoilage. If your freezer is full and it all goes bad, this coverage will help absorb the cost.
At Billyard Insurance Group, we love to help our clients understand insurance so that they can be confident in the choice they make. Have more questions? Contact a BIG broker! We'd love to learn about your RV and recommend the best coverage for your situation. If you're ready to trust BIG with your RV insurance, start your quote today!
---