Vacant Commercial Property During Covid-19
Monday, 4 May 2020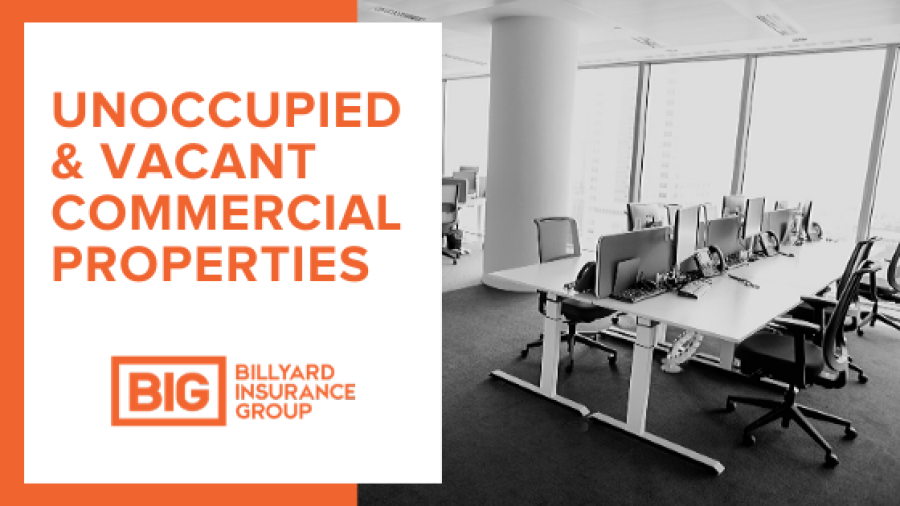 For those who own commercial properties to operate their business, these temporary closures due to COVID-19 may have sparked some questions about your insurance coverage. Many job sites have been shut down and employees are working at home where possible, which means your building could be unoccupied or vacant. When your building is not occupied on a regular basis, you are more susceptible to damages such as fire, vandalism and theft, which can affect how your insurer would handle potential claims. In this blog, we will provide some tips and information about how to navigate your vacant commercial property during the pandemic.
WHAT IS A VACANT COMMERCIAL PROPERTY?
In general, a commercial property can be considered vacant by an insurance company if it is not occupied for 30 days or more. The intention of the occupant's purpose to return to the property will determine whether the property is considered "vacant" or "unoccupied." Each situation is unique in the circumstances surrounding the building's occupancy status. Here are a few questions that you would likely discuss with your broker or insurer about a vacant commercial property:
Has the building been emptied of its contents and equipment?
Can the building be used in its current state?
Are the utilities connected and operational?
Can the building be used for its intended purpose?
WHAT HAPPENS TO MY INSURANCE IF MY PROPERTY IS VACANT?
When your job site has been shut down, or your employees are working from home, there is a higher risk of theft, vandalism and property damage, especially if the property appears unoccupied. In general, a broad form commercial property policy will not include loss or damage at locations which are vacant, unoccupied or closed down unless specifically endorsed with a vacancy permit. Exclusions usually exist in policy wording to delete coverage for properties that are vacant, unoccupied or shut down for more than 30 days. After the 30 days has elapsed, insurers will elect for a named-perils policy removing coverage for key concerns such as water-related losses and theft resulting in damage. Vandalism is usually excluded, and the building valuation is also restricted to an actual cash-value, not covering equipment.
WHAT IF MY PROPERTY IS VACANT DURING COVID-19?
In the current situation we face with COVID-19, insurance companies are recognizing that the circumstances for a vacant commercial property may be outside the business' or property owner's control and are legally mandated to close by provincial and municipal authorities. In alignment with the Declaration of the State of Emergency across the province, many Insurers are making accomodations to the coverage exclusion for properties which have been vacant/unoccupied for 30 days or more due to COVID-19. It is possible that insurers will broaden the interpretation of coverage and observe the same period allowed under the Declaration of Emergency before considering a property to be vacant, allowing the coverage to remain in place until the State of Emergency has been lifted. Companies making these allowances will require that regular checks to the vacant commercial property take place, and that proper maintenance and logs be conducted in order to continue coverage.
DO I NEED TO TELL MY INSURER THAT MY PROPERTY IS VACANT?
Due to the increased risk of a vacant commercial property, it's crucial to communicate any changes with your broker. While some companies are not requiring that they be notified about vacant properties during the pandemic, your broker will be able to provide you with the information specific to your insurer. Many companies still have building maintenance requirements in order to continue coverage, so be sure to find out what your insurer requires so that you can still be covered.
It's important to note that if the insured has voluntarily vacated their property outside an emergency order, the normal exclusions may apply.
WHAT SHOULD I DO TO MONITOR MY VACANT COMMERCIAL PROPERTY?
As the insured, it's your responsibility to do your due diligence ensuring the security of your vacant commercial property. While your property is not being used, the best practice is to continue to monitor it every 36-72 hours for signs of theft, vandalism or other physical damages. Companies will advise that you maintain your building's regular checks and keeping a log of each visit for items such as:
Fire protection equipment must be serviced regularly in line with fire codes.
Roofing repairs must be completed as needed.
Receive regular HVAC maintenance.
Refrigeration services should be checked daily to prevent spoilage of stock if applicable.
Keep the exterior well-lit including entrances and any materials accumulated outside.
Ensure there is no combustible debris or accumulation of garbage – an appearance could be attractive to unwanted visitors.
Burglar Alarm system must remain operational and security camera monitoring systems should continue to run and be recorded if applicable.
Sprinkler systems must stay operational.
Fire/Smoke alarms must be checked and stay operational.
As we continue to navigate the current circumstances, be sure to have an open conversation with your broker to ensure you can continue coverage on your commercial property while it is vacant. Our trusted commercial brokers at BIG continue to work remotely and can answer your questions by phone and email.