Does your Business Need Errors & Omissions Insurance?
Friday, 23 November 2018
Mistakes happen. Yet when it comes to your business, mistakes can be serious enough that they threaten the survival of your business. Errors & Omissions Insurance (E&O) is one way to protect your business from serious mistakes that may otherwise be detrimental to your success. The threat of litigation is higher in today's society and this can come at a significant cost. Your business may be successful, but there's always the threat of a lawsuit — sometimes even when you're not at fault.
Litigation occurs far more often than you think and the cost of fixing the situation can result in huge financial losses unless you are covered by Errors and Omissions Insurance.
What is Errors and Omissions insurance?
E&O insurance protects you against the errors you make when providing a professional service to your clients. It is a category of Professional Liability Insurance that protects companies and their employees against claims made by clients for misrepresentation, breach of professional services, wrongful business practices, misleading advice and conflict of interest. E&O safeguards you, your employees and your business against the cost of defending lawsuits and paying awards or arbitration settlements for making mistakes (errors) or failing to provide vital information (omissions).
Do I Need Errors & Omissions Insurance?
The majority of businesses are at risk of making mistakes or providing misleading information. Small businesses are not exempt from this.
If you already have business insurance, you may assume that you are covered for this. However, it's important to understand that most Commercial General Liability policies will not cover E&O. Your broker will be able to investigate this on your behalf and determine where your coverage may leave you at risk.
Here are some examples of industries that may benefit from E&O Insurance:
Financial & Investment Advisers
Financial advisers and investment advisers provide advice on clients' finances, this may include advise on investments, taxes, estate planning, mortgages, and retirement. If a financial or investment adviser provides misleading or incorrect advice they can put their client's finances at risk. An unhappy client whose investments has not delivered the promised rate of return may decide that it's the fault of the investment adviser. Any litigation resulting from errors or omissions, even if you are not at fault, can be very expensive to defend. E&O Insurance is highly recommended in this industry.
Design Professionals
Any professionals involved in design, including architects, website developers and software developers. When looking at architects, any errors in their design can cause expensive mistakes in building projects such as incorrect ordering of materials. For website and software developers, data breaches are another source of potential grievances that can be covered under E & O. If the client believes that the website or software developers security processes are inaccurate and resulted in a data breach.
Repair Services
If you provide repair or maintenance services, you will also benefit from Errors & Omissions Insurance. If your repair services result in a leak that floods an entire office, that office may then look to take legal action to pay for the error. For small businesses, this could be way out of their ability to cover the costs. Having E&O insurance protects you and your business from these costs.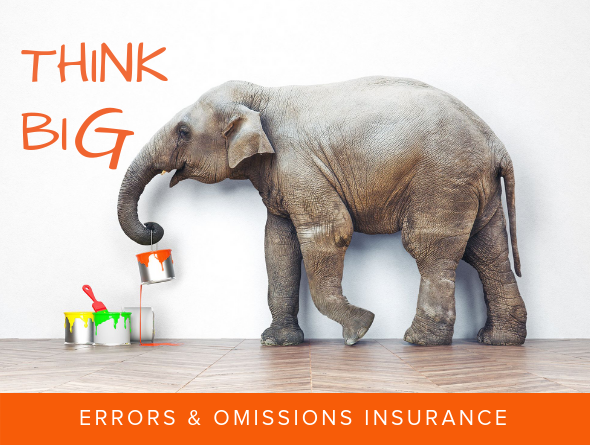 What Does Errors & Omissions Insurance Cover?
Errors & Omissions coverage should be customized to your business and industry. Your policy is customized to reflect the service risks and exposures relevant to your business. Business size, industry type, business location as well as your desired coverage will all make up your unique Errors & Omissions Insurance coverage.
Defense costs
If you provide an action or recommendation that causes a negative outcome for a client, this may result in a lawsuit and legal defense costs. This not only results in financial loss but potential character damage. Even if you were not in the wrong, defense costs can become a financial burden on your business. Choosing an E&O policy that covers defense costs may be particularly beneficial for those who work in management consulting, property management, or real estate.
Negligence
Negligence occurs when a company fails to show reasonable care in their actions which results in harm to their client. Your business is responsible for duty of care when providing your service. Errors or omissions may be considered a failure to uphold this duty of care. A client may have the legal grounds to seek compensation if they believe that they have been harmed or suffered loss due to negligence.
Libel or Slander
Libel and slander are forms of personal injury because they can cause character damage. This may result in suffering financial losses and other losses. Slander refers to when someone verbally makes a false claim. Libel is a false claim made in writing. Slander or libel directed to you or your business can have a negative impact on your business. This is even the case if the accusations are untrue.
Copyright infringement
Copyright Infringement is when works that are protected by copyright law are used without the permission of the owner. Even if your business does its best to protect intellectual property, it is easy for mistakes to happen. This is especially true with the vast amount of content available on the internet. Choosing an Errors & Omissions Insurance policy that covers copyright infringement may be particularly beneficial for those who work as advertisers, media consultants or graphic designers.
Billyard Insurance Group have a team of commercial brokers that specialize in providing insurance for your business. They will shop on your behalf to find the coverage that you need for your business. Contact us today for a quote.
---