Amazing Ideas for Organizing Your Car
Tuesday, 1 September 2020
Vehicles tend to get messy, especially with little ones on board. Whether you're headed out on a long family road trip, or you're just tired of the mess, it's a great feeling to find ways to organize all the stuff that's accumulated in your car. There are some really simple car organization ideas that can make the space feel tidy by re-purposing some of your household or dollar store items. In this blog, let's take a look at 9 BIG car organization ideas for your vehicle this fall!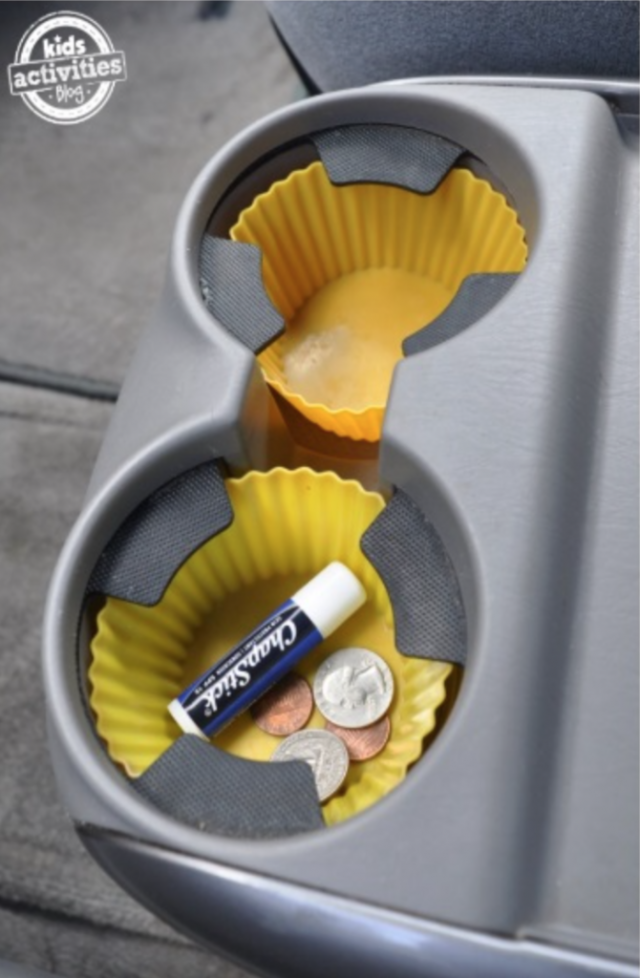 1. Use Cupcake Liners to keep Cup Holders Clean
It's easy for dirt and grime to build up in your cupholders – be it from spills, snacks, or just time. Take reusable silicone cupcake liners and fit them into your cupholders to keep them clean. When they get dirty, it's a simple rinse they're ready to go again. This is a lot easier than having to try to get all those crumbs and grime that seem to be impossible to get at.

2. Hang a Toiletries Organizer from the back of the Head Rest
Depending on the age of your child or passenger, a shoe organizer can be great for all those toy stuffed animals, diapers, wipes, and a change of clothes.
Alternatively, use a toiletries organizer for older kids' activities such as books, colouring pencils, and portable games.
You can also try hanging a remote control holder over the side of the chair for side access to kids' activities.
3. Seal Away your Garbage with a Cereal Dispenser Trash Can
Garbage seems to be unending on a road trip, and sometimes it can be left behind or forgotten for days once you get home. This car organization idea keeps the smell from permeating the whole vehicle by sealing that smell away with a cereal dispenser. You also don't have to worry about spills with the seal on top. You may also consider securing it to the floor with a piece of heavy-duty hook and loop tape.
4. Carabiner Hooks on Head Rests to Hang Your Groceries
If you're tired of crushed bread or cracked eggs, carabiners can be a great car organization idea for transporting your groceries. You can even use them to hang up your gym bag, purse or an umbrella. Carabiners may also work well if you hang them from the safety handles up top.
5. DIY Car Emergency Kit
Part of keeping your passengers safe is to always have a first aid kit in your vehicle. You never know when an emergency may present itself and you'll need to bandage a scraped knee. One of the car organization ideas includes using a makeup bag has tons of zippers and little pouches perfect for all the contents of a first aid kit. Here are some things you should include: adhesive bandages, sterile gauze pads, sanitizing/disinfectant wipes, medical tape, medical scissors, a triangular bandage, and sterile gloves. You may also decide to keep some emergency medication in your first aid kit, just ensure that it is (1) out of the reach of children and (2) you follow proper storage instructions for the medications.
6. Make Your Glove Box Useful
Another one of our car organization ideas is to use a few dollar store file folders, or an expandable accordion-style folder to keep all of your documents organized. You should include a copy of your car insurance, a photocopy of your vehicle ownership and registration, emergency information, your trip itinerary, or anything else you may deem useful while you're out and about.
7. Expandable Shower Curtain Rod for hanging clothes
If you're heading to a fancy event and are worried about wrinkled clothes, an adjustable shower curtain rod can be adjusted behind the rear passengers for hanging clothes.
This way you can travel in comfort and not be worried about wrinkles in your nice outfit or spills and messes from the kids.
You could also use this idea for extra coats, rain jackets, bags and umbrellas!
8. Dog Seat Cover
As much as you love your pet, let's be honest, they can create quite a mess! If you are travelling with your dog, you might consider protecting your leather or fabric interior from the drool, spills and claw scratches with a dog seat cover or even just a blanket. It will also be easier to remove a car seat cover like this without having to vacuum any pet hair if you decide to carry human passengers at any point.
9. Use a Shower Caddy to Organize Car Fluids
If you end up needing brake fluid, or a windshield washer fluid top up during the drive, you can keep all of your emergency fluids stored together in a shower caddy. If you have a stow-away section of your car, you might want to keep it there.
We hope these ideas will help you have a smooth road trip, and get you more organized in your vehicle. Messes accumulate, but with these car organization ideas, you can stop them! On your next road trip, make sure you practice these safe driving habits, carry your insurance information with you, and make sure you have the right coverage for your vehicle. Our trusted BIG brokers are always available to help you with your policy or get you a no-obligation quote for an amazing price. Contact us today to get started!